Robert Parker's Wine Advocate: "France, Burgundy 2013: Meursault "
Never heard of them? No, nor had I or indeed, many people in the world. I chanced upon them during the blind tasting of 2011s when their Meursault 1er Cru les Cras popped up and did rather well. The inquisitive part of my nature led me to investigate further. This tiny domaine was founded in 1929 and is based in the heart of Meursault village in a tranquil, gladed house, nestling just off the central square. They own just under three hectares in Pommard, Volnay and Meursault. There were three 2013s that caught my attention.
Volnay : 89/100
The 2013 Volnay 1er Cru Clos des Chênes, which was already in bottle, has a nicely defined black plum and blackcurrant-scented bouquet that has commendable purity, although it will need another 12 months in bottle. The palate is well balanced with supple tannins, smooth in mouth with well-integrated one-year-old wood. I like the density here, without detracting from the finesse, while there is a fine herbaceous freshness on the energetic finish. This is worth hunting down.
Bourgogne blc: 87/100
From vines located next to the Route de Puligny, the 2013 Bourgogne Blanc has a crisp, fresh pear and peach-scented bouquet that is nicely defined. The palate is clean and fresh with good acidity, light pear drop notes with a hint of spice on the finish. I actually think this is a good as the Meursault Cras '13…perhaps even better.
Meursault Cras: 85/100
Bottled three weeks previously, the 2013 Meursault 1er Cru les Cras is rather closed on the nose as you might expect. There are light yellow flower notes and just a touch of mossy undergrowth. The palate is nicely balanced with touches of lemon rind, orange zest and a dab of spice. Enjoy this simple Meursault over the next couple of years.
Volnay 2011 : 90/100
Tasted blind at the Burgundy 2011 horizontal tasting in Beaune. Lucid ruby in color, the 2011 Volnay Clos des Chênes from Domaine du Cerberon (whose proprietor presently works at Domaine Méo-Camuzet) has a modern sheen on the nose, heightened creamy new oak that expresses the winemaking more than the terroir. The palate is chewy and ripe on the entry, quite succulent in the mouth with boysenberry, blueberry and a dash of white pepper on the strident finish. Give this delicious Volnay one or two years in bottle – and look out for this producer in the future.
Sommeliers International n° 146 - Novembre 2014
Guide Vins & Santé 2015
Guide Hachette des Vins 2015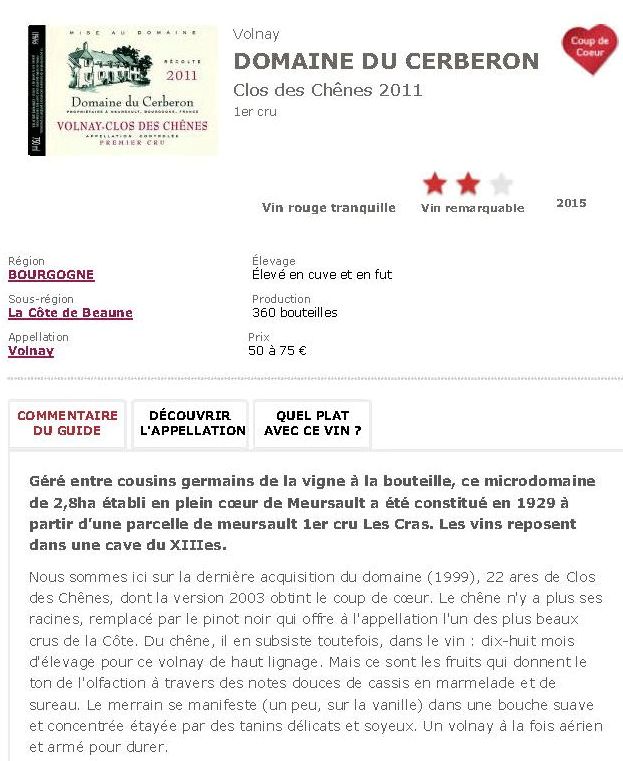 Guide Hachette des Vins 2014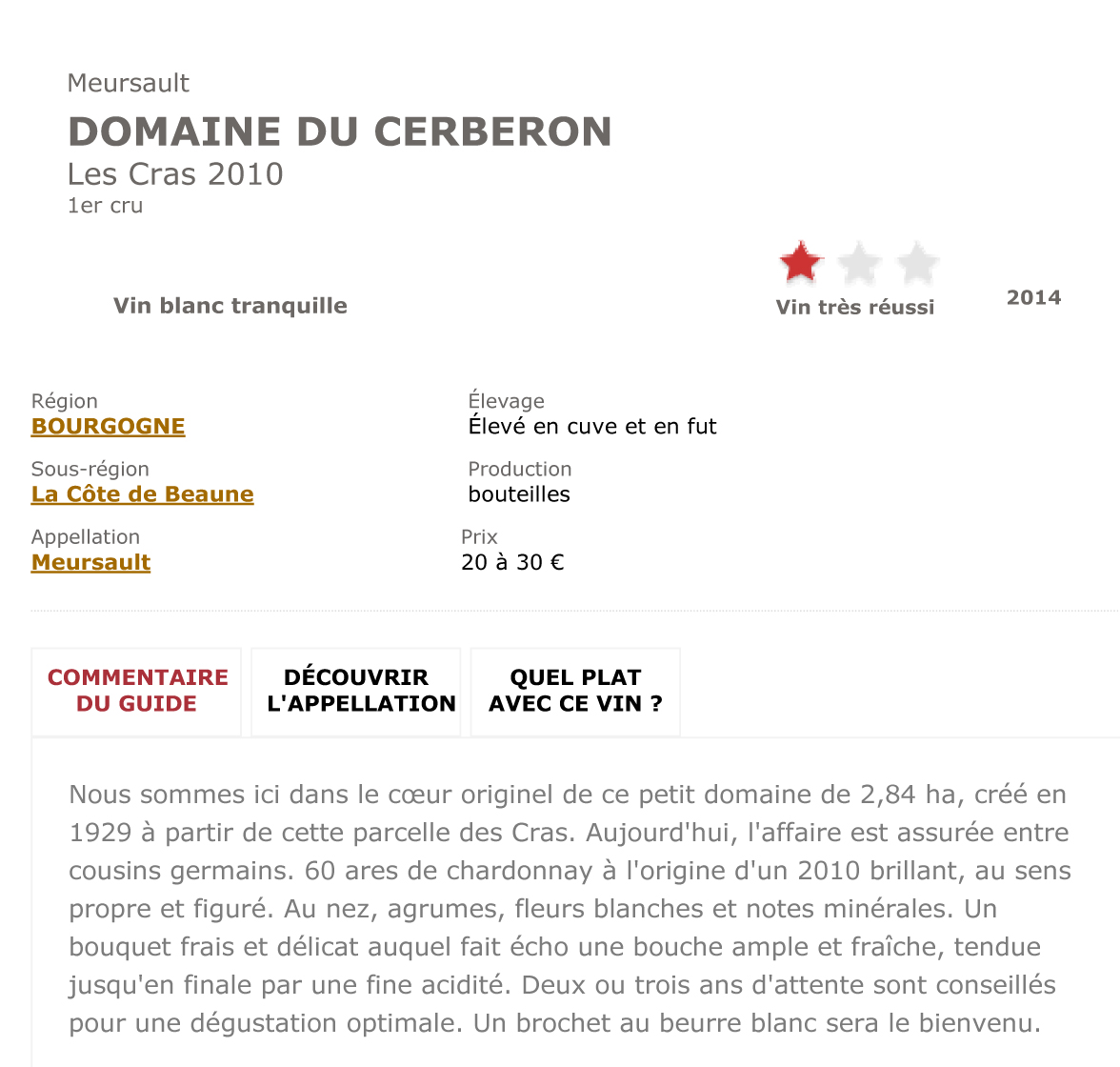 Guide Vins & Santé 2014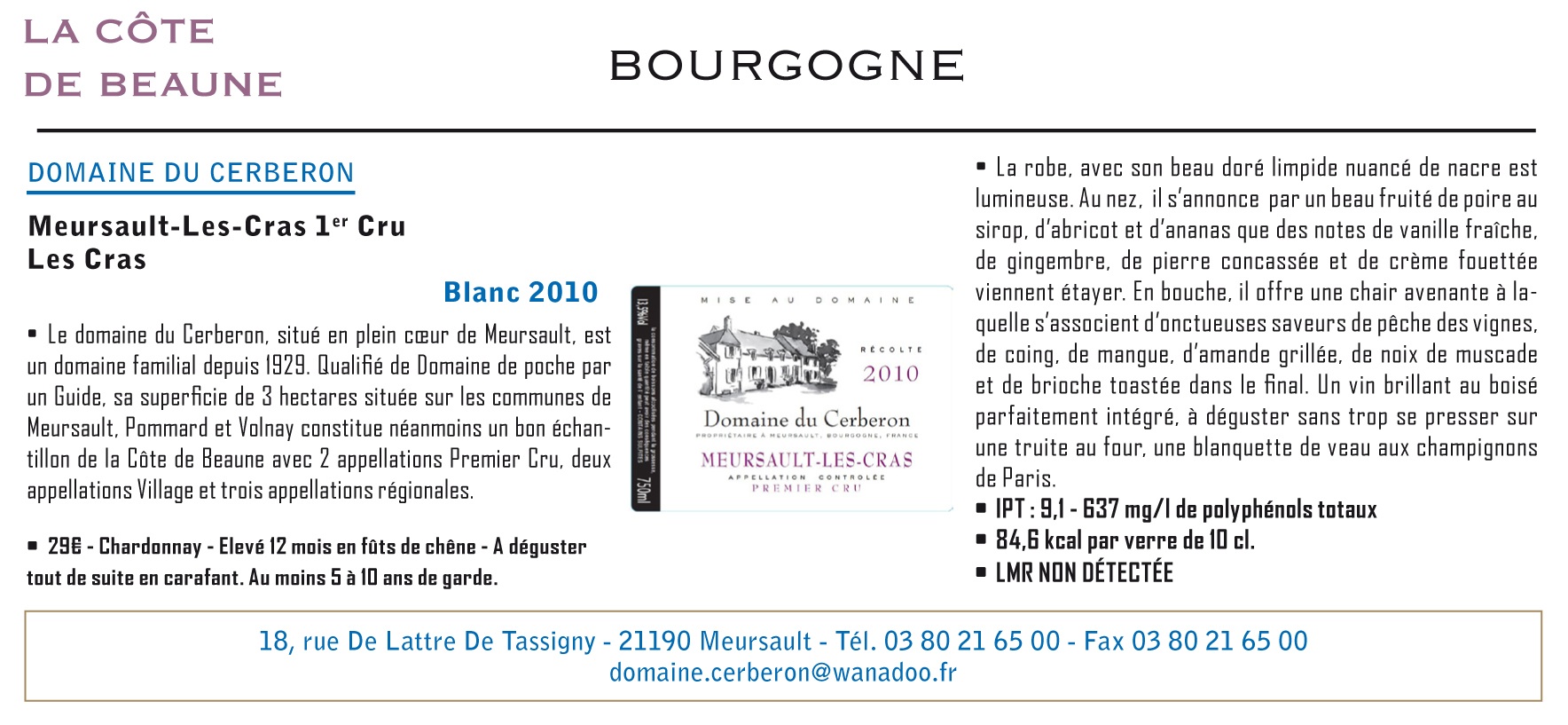 Decanter, mars 2013
Cliquer sur l'article pour agrandir notre note et la traduction
Decanter, janvier 2013
Cliquer sur l'article pour agrandir notre note et la traduction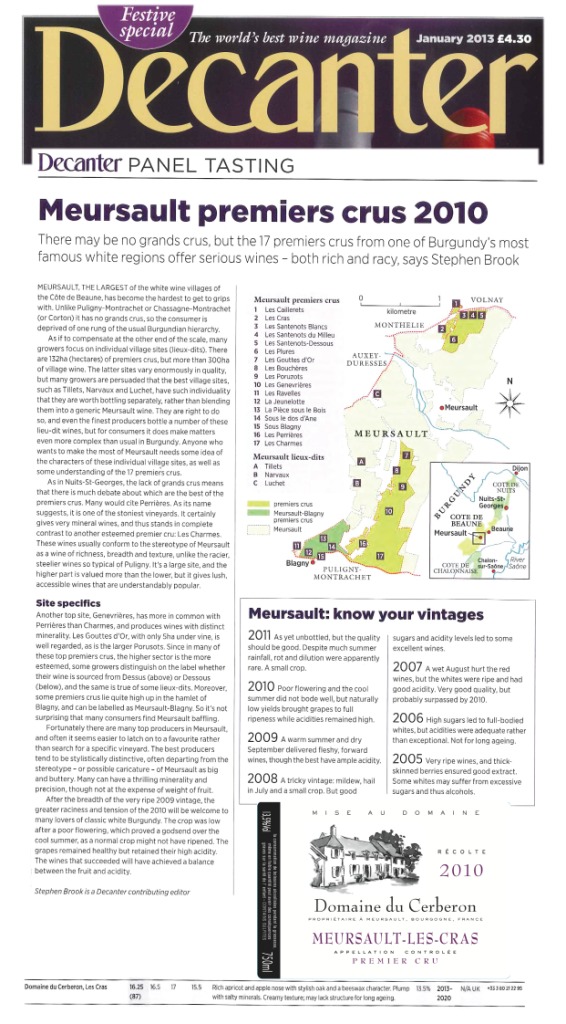 Guide Vins & Santé 2013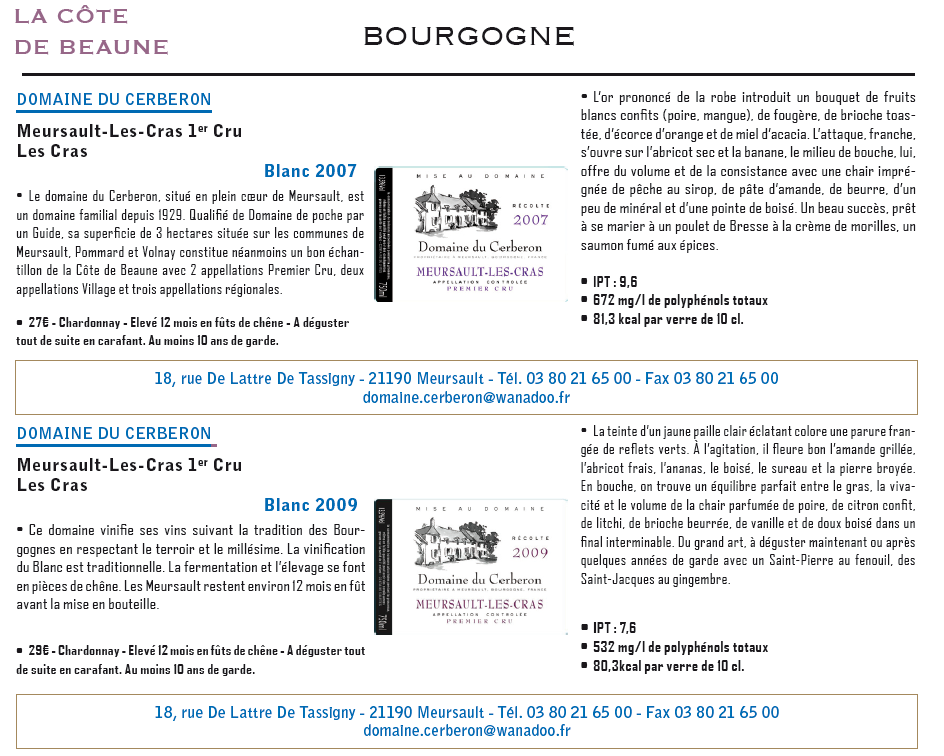 Guide H#achette des Vins 2013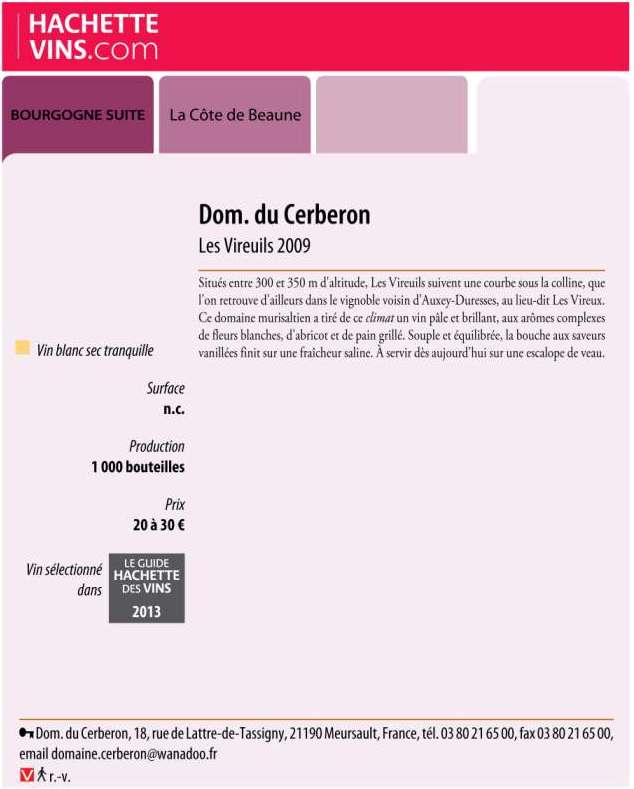 Magazine Vins et Art de vivre Bourgogne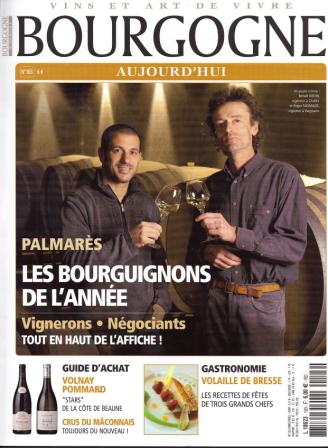 Numéro de décembre 2011 - janvier 2012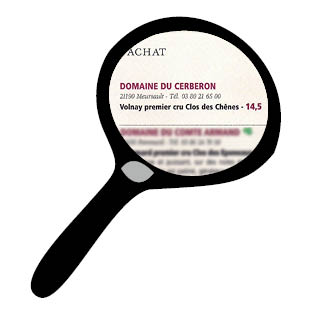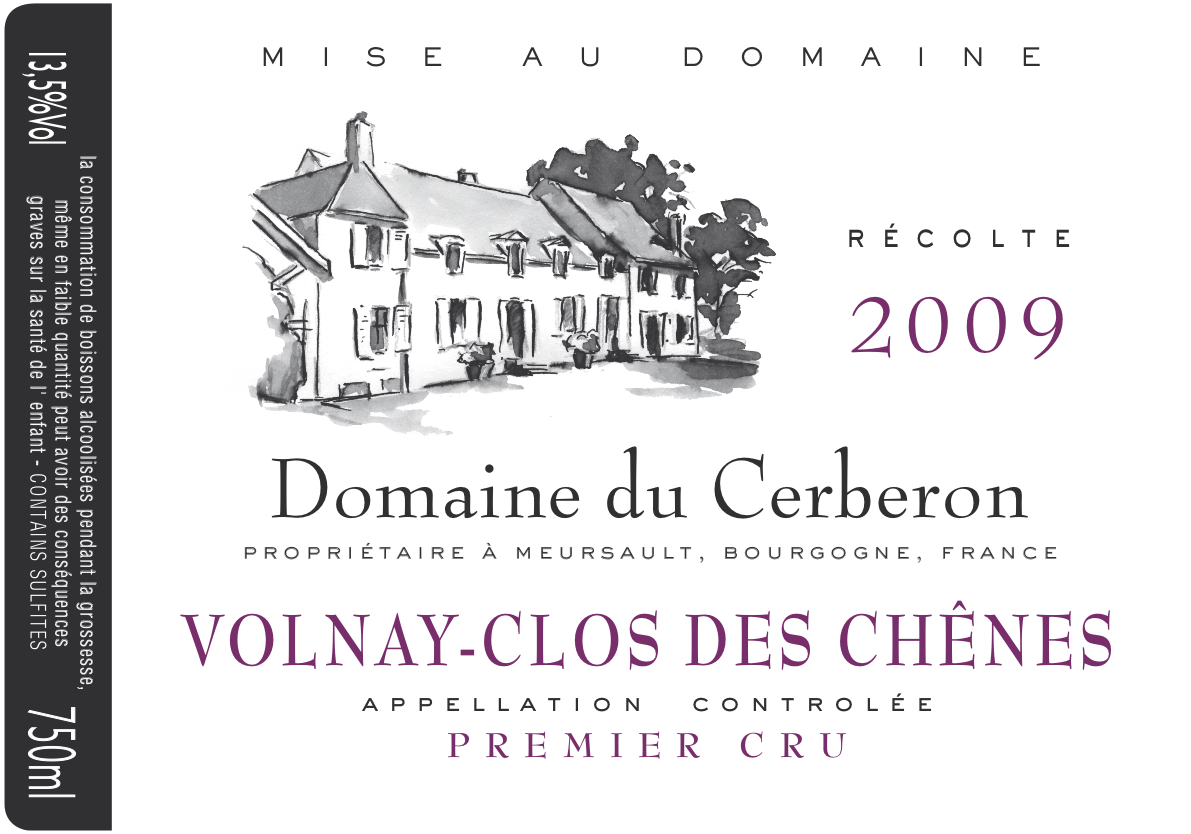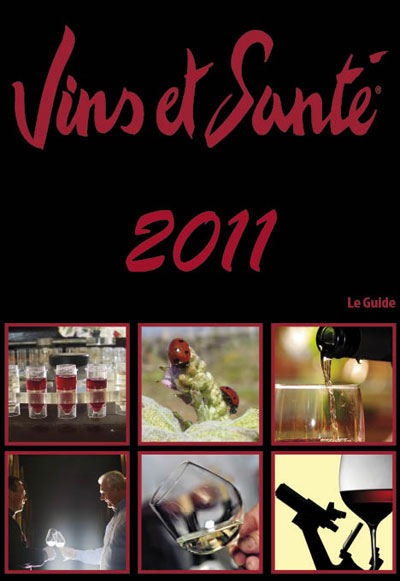 Meursault, Clos des Cras 1er Cru, b

lanc 2009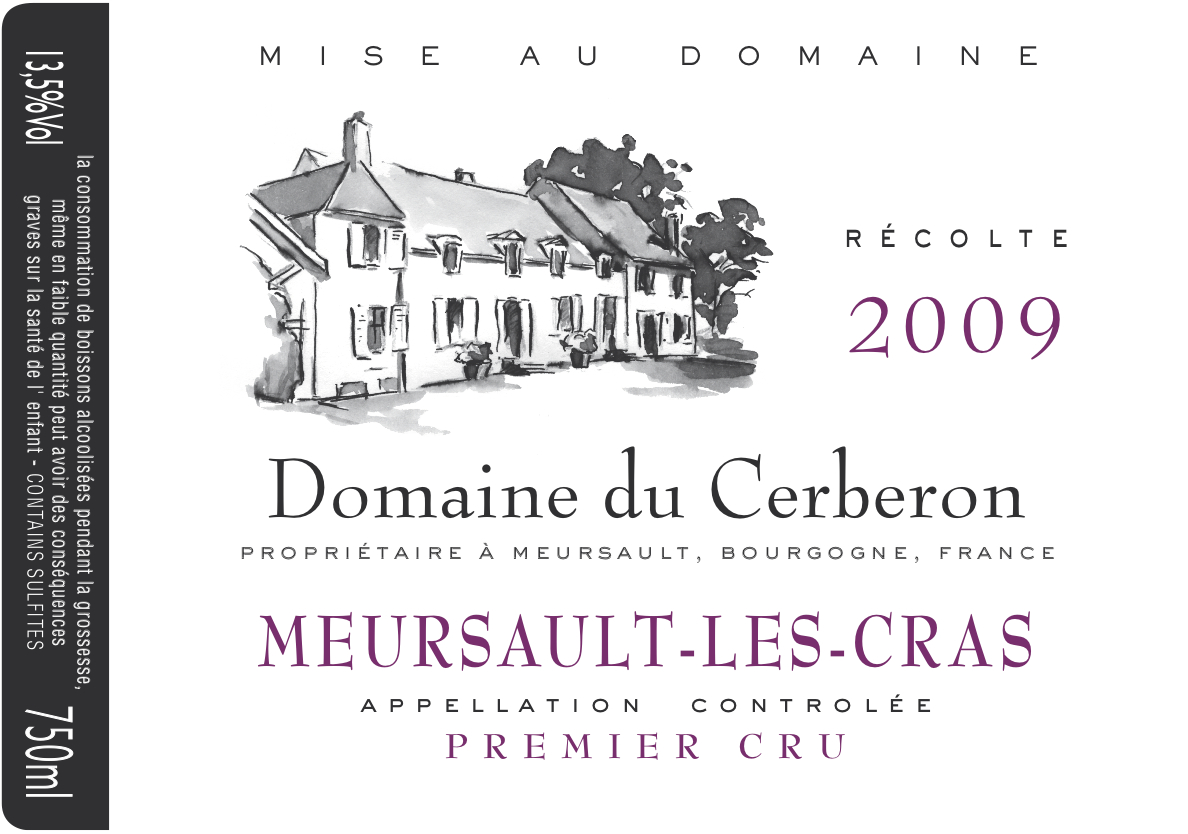 La teinte d'un jaune paille clair éclatant colore une parure frangée de reflets verts. À l'agitation, il fleure bon l'amande grillée, l'abricot frais, l'ananas, le boisé, le sureau et la pierre broyée. En bouche, on trouve un équilibre parfait entre le gras, la vivacité et le volume de la chair parfumée de poire, de citron confit, de litchi, de brioche beurrée, de vanille et de doux boisé dans un final interminable. Du grand art, à déguster maintenant ou après quelques années de garde avec un Saint-Pierre au fenouil, des Saint-Jacques au gingembre.
Meursault, Clos des Cras 1er Cru, b

lanc 2008
La robe d'un paille clair est lumineuse, limpide à reflets nacrés. À l'olfaction, le nez se montre épanoui avec ses parfums de pêche mûre, de fruits exotiques (mangue, ananas), d'amande grillée, de genêt, de beurre et de léger fumé. En bouche, il est très élégant, il s'exprime avec délicatesse et pureté au travers d'une chair charnue et d'une trame minérale marquée d'arômes de fruits blancs (poire, pêche), de cannelle, de crème fouettée et de pierre broyée. Remarquable finale sur des notes citronnées. Un blanc raffiné à déguster avec des noix Saint-Jacques aux champignons.
Meursault, Clos des Cras 1er Cru, b

lanc 2007
L'or prononcé de la robe introduit un bouquet de fruits blancs confits (poire, mangue), de fougère, de brioche toastée, d'écorce d'orange et de miel d'acacia. L'attaque, franche, s'ouvre sur l'abricot sec et la banane, le milieu de bouche, lui, offre du volume et de la consistance avec une chair imprégnée de pêche au sirop, de pâte d'amande, de beurre, d'un peu de minéral et d'une pointe de boisé. Un beau succès, prêt à se marier à un poulet de Bresse à la crème de morilles, un saumon fumé aux épices.
********
Guide hachette des Vins 2009